Our mission at Northeast is to make disciples on mission for Christ with a goal of reaching every home in the Northeast corner of San Antonio for Jesus. And we believe that women who know and love God and His Word are powerful forces in this mission! Throughout the year we offer Bible Studies and events designed to help women meet Jesus, grow and strengthen their faith, and increase their influence as disciple-makers and leaders at home, at work, and in their neighborhoods.
WOVEN - Women's Summer Series
June 22 | Northeast Bible Church - Chapel | 6 - 8p | Childcare available with registration by June 15th

"Because He is steadfast we can have Unwavering Faith"

Are you in pursuit of unwavering faith? How we spend our time and who we spend it with really does matter! Join us this summer for three separate gatherings where we come together as women of faith to worship, fellowship and further explore how time in the Word of God, time in Christian community, and time spent in discipleship relationships helps us to build the "Unwavering Faith" in Jesus that we so desire! *The WOVEN women's event is free, no prior registration for adults required.

SAVE THE DATE for the next dates in the Series:

July 27 - Spending time in Discipleship
Childcare for June 22
Women's LifeClasses
Various classes will be available in the fall. Check back in August for more info.
Childcare registration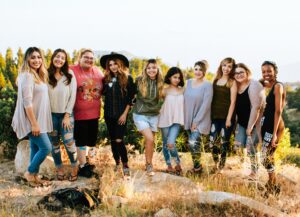 Marriage
'I do, Every Day' devotional
familylife.com/subscriptions
" I highly recommend couples to do the 'I do Every Day' devotional. This is a free 1 year devotional that is emailed daily filled with marriage encouragement, including practical encouragement for parents." – Belinda Garcia
Parenting
'The Art of Parenting' by Dennis & Barabara Rainey
"The Rainey's were spot on when they gathered these guiding principles for parents to build on!" – Cathy Penshorn, MOPS Mentor Mom
'Parenting Beyond Your Capacity' by Jonier/Nieuwhof
"This book was full of ways to connect my children to folks who can invest in them in support of and beyond my abilities."
– Shana Simpson – MOPS Mentor Mom
New Believer
'Seamless' by Angie Smith
"This study is designed to give an overview of the entire Bible, from Genesis to Revelation, showing how God's story of love and redemption for His people is in fact – seamless – one thread from start to finish." – Bevin Caramello, Director of Women's Ministry
'The Gentle Art of Discipling Women' by Dana Yeakley
"A practical tool filled with scripture and insight meant to guide women on how to read and unpack the Word of God together."
– Bevin Caramello, Director of Women's Ministry
Spiritual Gifts
How do you discover your spiritual gift?
"It begins with submitting and surrendering to God. God then uses you to build up and strengthen others in their faith. Spiritual Gifts are God-given supernatural abilities that enable a believer to be used in the service of others for the glory of God. " – Liz Joseph