Our mission at Northeast is to make disciples on mission for Christ. In other words, we want to make disciples who make disciples who make disciples…with a goal of reaching every home in the Northeast corner of San Antonio for Jesus. And we believe that women who know and love God and His Word are powerful forces in this mission! Throughout the year we offer Bible Studies and events designed to help women meet Jesus, grow and strengthen their faith, and increase their influence as disciple-makers and leaders at home, at work, and in their neighborhoods.
Campfires, Smore's and Laughter!
October 17th | 7 - 9pm | Northeast Bible Church Campus | Free!

Bring your camp chairs and your friends for a much needed night of levity. The night will include christian comedians on the big screen, s'mores and time to connect with other women, all while safely social distanced on the back lawn of the Northeast Bible Church Campus. The cost is free. Register and let us know you are coming so we can have a s'mores pack ready for you!

*Childcare is not available for this event*
Didn't have time to register? Come anyway!

Register Here
Join a Fall LifeClass!
Our studies begin September 15th but remain open for new members all semester. Join us when you can, where you can – on campus or virtually through zoom.  You belong here and we can't wait to meet you!
Contact us at women@nebc.ch with any questions.
Tuesday Morning LifeClasses
Tuesday's beginning September 15th | 9 - 11:30a | EMB - various classrooms | *zoom options available.


Come together with other women in the Northeast area to learn more about what God has to say in the bible and about how being a disciple of Jesus will change your life.
**Limited childcare available. Register for childcare every Monday at nebc.ch/childcare**
See descriptions of each class below:

Romans: Good News that Changes Everything & Choose Joy Because Happiness Isn't Enough

Through these two studies you will learn about the transforming good news of God's love. Even in this challenged filled time a joy-filled life is possible for every women.
*Jonah – Navigating a Life Interrupted & What Matters Most

This semester will be spent studying Jonah who lived a life interrupted, much like we are experiencing now. Through a study of Phillipians we will also be determining how to live out what matters most.
*God of Creation: A Study of Genesis 1-11
The opening lines and chapters of Genesis teach us fundamental truths about God. Revisit familiar stories, challenge your basic knowledge and discover deeper meanings in the text.
*Joshua & Judges

We will be resuming our study on Joshua that was cut short in the spring semester. New members welcome and will be caught up! We will also be unfolding the layers of the book of Judges, answering the questions what happened and why? Revealing how God spoke through these wonderful but flawed individuals.
Wednesday Night LifeClass
*Wednesday's beginning September 16th | 6-8p | EMB - Warehouse

This fall you can join in person or virtually through zoom. We will be studying the following throughout the semester:

Jesus & Women
In this study join the women who walked with Jesus and met him face to face. Learn from their experiences that the love and comfort Jesus had to give is also available to you.


**Childcare is not available at this time**

Marriage
'I do, Every Day' devotional
familylife.com/subscriptions
" I highly recommend couples to do the 'I do Every Day' devotional. This is a free 1 year devotional that is emailed daily filled with marriage encouragement, including practical encouragement for parents." – Belinda Garcia
Parenting
'The Art of Parenting' by Dennis & Barabara Rainey
"The Rainey's were spot on when they gathered these guiding principles for parents to build on!" – Cathy Penshorn, MOPS Mentor Mom
'Parenting Beyond Your Capacity' by Jonier/Nieuwhof
"This book was full of ways to connect my children to folks who can invest in them in support of and beyond my abilities."
– Shana Simpson – MOPS Mentor Mom
New Believer
'Seamless' by Angie Smith
"This study is designed to give an overview of the entire Bible, from Genesis to Revelation, showing how God's story of love and redemption for His people is in fact – seamless – one thread from start to finish." – Bevin Caramello, Director of Women's Ministry
'The Gentle Art of Discipling Women' by Dana Yeakley
"A practical tool filled with scripture and insight meant to guide women on how to read and unpack the Word of God together."
– Bevin Caramello, Director of Women's Ministry
Spiritual Gifts
How do you discover your spiritual gift?
"It begins with submitting and surrendering to God. God then uses you to build up and strengthen others in their faith. Spiritual Gifts are God-given supernatural abilities that enable a believer to be used in the service of others for the glory of God. " – Liz Joseph
Abortion Support
'Surrendering the Secret' is a course designed to bring healing to women who have an abortion in their past. Millions of women hold this secret deep inside and many are suffering severe consequences. Surrendering the Secret allows women who need help to connect with women who can help in a safe and confidential environment.
For more information please call Vickie McCan at (830) 302-1638 or email stsstudy.vickie@gmail.com
Your privacy is held in the highest regard and all information is kept confidential from Pastors, Staff and other church members.
Watch the promo video for Surrendering the Secret.
---
WOVEN Women's Gathering
This summer, we gathered together online for worship, community, and live teaching from other women who are right here in our own church. We heard from God's Word just what it looks like to truly live Free In Christ and walked through the Daily Reading Guide together. View our 3 online events and contact us at women@nebc.ch if you want to continue the discussion on how to live Free in Christ.
"So if the Son sets you free, you will be free indeed." John 8:36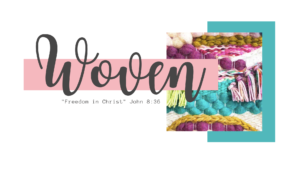 Missed any of our events? Watch them Here:
Click to Watch May 12 – Daughter of the King
Click to watch june 9 – ransomed bride