Northeast Bible Church is made up of persons living in a variety of local communities. For this reason we are passionate about connecting our people with service opportunities in their area & in line with their passions. On this page you will see a list of ministry partners who are Gospel Centered & Redemption Focused. Though their methods vary their aim, like that of Northeast, is to invest in others through service in order to share the love of God & the Gospel of Grace in Jesus Christ.

We challenge every member of Northeast Bible Church to engage & serve with these valued ministry partners.

Don't see a ministry or mission field you are hoping to serve? Let us know where you feel God leading you at Outreach@nebc.ch

Together we can grow a thriving ministry network to Bring Jesus to Every Home in the Northeast Corner of San Antonio.
Love Where You Live (LWYL)
To demonstrate the love of Jesus Christ to neighbors in need by organizing volunteers from the City, Churches and Community to help with maintenance and repairs of their homes. 
Matthew 22:39 commands us to love our neighbors as ourselves. At Love Where You Live – Schertz we provide practical ways to show this love to those living around us.
LWYL helps those in need including widows, elderly, disabled & impoverished, by providing manual labor and updates needed around their property.  We are able to demonstrate the Love of Christ and to live out our vision of Impacting Our Community in a positive way. This is a great opportunity to serve as a Family, LifeGroup or Ministry Team. Contact Eric to learn more or to join the ongoing LWYL team that helps families in between service days with small projects throughout the year.
April 22, 2023 | 8a – 4p | Meet at Rock Point Church, Schertz

Visit lwylschertz.com to learn more or
Want to partner with LWYL? Contact Eric Wilbur to join the team.

Contact: Eric Wilbur
Email: Eric.Wilbur@nebc.ch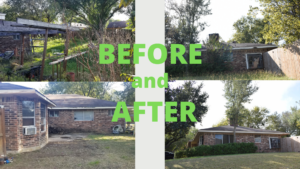 Positively Impacting Communities (PIC)
Let each of you look not only to his own interests, but also to the interests of others.
Philippians 2:4
At their very core PIC believes that through the power of our Lord and the positive influence of our youth and volunteers we can change lives. Their programs are centered around a common theme, empowering youth to meet the needs of their communities in order to protect them from risky behavior teens are often susceptible to. They provide in school mentoring, food for at risk families and reading tutors.
To partner with PIC:
Email: Info@PICToday.org
Website: pictoday.org
Christian Assistance Ministry (CAM)
To share the love of Christ by providing immediate assistance and encouragement to people in crisis.
CAM provides food, clothing, utility & medication assistance, identification recovery and more for the vulnerable and at risk populations of San Antonio. This work is done through donations, volunteers and financial assistance.
To partner with CAM:
Contact: Emily Kirtner
Phone: 210-222-1553
Website: christianassistanceministry.org
1Hope for Kids
Providing hope for kids in crisis.
1HOPE for Kids (formerly 4KIDS of South Texas) is a Foster Care and Adoption agency in Bexar and surrounding counties, training, licensing, and supporting Christian families.
To partner with 1HOPE for kids:
Contact: Katy Wilhelm
Phone: 210-904-6152
Website: 1hopeforkids.org
Randolph Area Christian Assistance Program (RACAP)
To give emergency assistance.
RACAP is a Christian Ministry that serves the unmet needs of the community by providing many forms of assistance including food, rent, utility, & medication. They accept food and financial donations from member churches, individuals and local organizations.
To partner with RACAP:
Contact: Jessie Fisher
Phone: 210-658-1613
Website: racap.org